Opinions about Grupo ASV Funeral Services
I liked their friendly but respectful approach, and how quickly they dealt with all the paperwork. They managed everything very well indeed. They were very kind and professional. The flowers were beautiful. Thank you for your help at such a difficult time.
Marisol
La Santa Faz Funeral Parlour.
They were very helpful, friendly and eager to assist at all times. The employees were very professional and I didn't have to worry about anything as they took care of everything. They were very supportive indeed. I would give them more than 10 out of 10, in fact I would give them 20.
Francisco
Estepa Funeral Parlour
I can't recommend them highly enough, I couldn't imagine a better funeral than the one we've arranged. The employees were very friendly, despite the solemn atmosphere. They were very supportive at all times. They've been a great help.
Stephanie
Torrevieja Funeral Parlour
I greatly value the humanity and professionalism with which we were treated. They were always eager to assist with anything we needed. The service has been excellent
Virginia
Ntra. Sra. del Carmen Funeral Parlour-Crematorium
They looked after all the paperwork. They were all very professional and eager to assist right down to the last detail. This support and kindness was sorely needed at what was a very difficult time. They helped us a lot. I would give them 10 out of 10
They were wonderful, I didn't have to worry about anything, they saw to everything. They were very helpful and kind. The funeral parlour was very nice and the staff was always on hand to make sure we didn't miss anything. Thank you for everything.
José Luis
La Siempreviva Funeral Parlour
Our customers rate our service with a
9/10
*Average score based on quality surveys 2018 after the provision of the funeral service
Funeral Services for Ex Patriates and Repatriations
How long after death can the ceremony take place?
The duration of the funeral service in Spain can be adapted to the customs of the deceased person's family. If the family needs time to regroup and prepare the ceremony, Grupo ASV Funeral Services will keep the deceased for as long as it might be necessary.
What kind of ceremonies can be organised?
Grupo ASV Funeral Services can organise a customised ceremony with a master of ceremonies, who will reach an agreement with the family on how to carry out an emotional farewell ceremony suited to their requirements. Also, for religious ceremonies we also maintain regular contact with the representatives of different religions who will carry out a funeral in accordance with each family's religious beliefs.
Who meets the costs for the service?
If the deceased has a funeral plan or policy with an insurance company, Grupo ASV Funeral Services is responsible for contacting the company and resolving all matters referring to the cover for the service. If the deceased person has not subscribed these services, then his or her family will take responsibility for the service.
How to organize a repatriation?
Yes, once the family decides to carry out the funeral service in the country of origin, Grupo ASV Funeral Services will be responsible for taking all the necessary steps to repatriate the body to the destination specified.
NETWORK OF ASV FUNERAL PARLOURS AND FUNERAL HOMES
We are close to you
You have 24 hour customer service provided by our wide network of professionals available throughout Andalusia, Valencia, Alicante and Murcia.
Your nearest funeral parlour is:
Support for your loss
We are with you. We are commited to take care of you by giving you the support for every aspect arising from the loss of a loved one.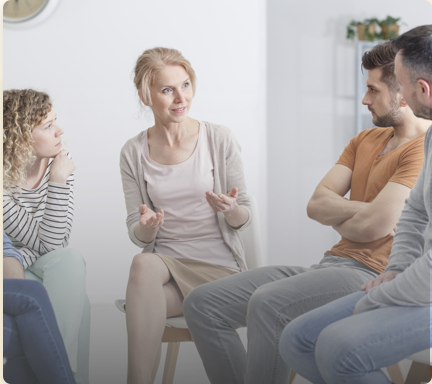 Direct attention to relatives
Workshops and support groups to assist with bereavement.
Online bereavement support publications and tools
Check out our free publications, blog articles or follow us through our Facebook page managed by a specialised psychologist.
Events calendar
Find out about our conferences on mourning, tribute events, Death Cafes and other cultural events that we put on.